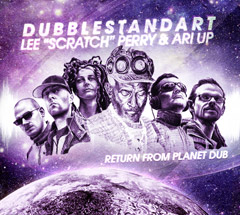 DETAILS:

Label: Collision - cause of chapter 3 ( an echo beach division)
Title: Lee "Scratch" Perry, Ari Up - Return from Planet Dub
Artist: Dubblestandart
Format: DOCD - 33 Tracks - 145 Minutes playtime
Catalogue: CCT3019-2

Release date: 2009

TRACKLISTING:

CD 1
01. Chase The Devil feat. Lee Perry & Gudrun 5:26
02. Let 'Em Take It Dub feat. Lee Perry 5:19
03. Blackboard Jungle feat. Lee Perry 6:08
04. Fungus Rock feat. Lee Perry 6:37
05. I Foo China feat. Lee Perry & Gudrun 5:09
06. Give Thanks & Praises (Megaton 3) feat. Lee Perry 6.01
07. Deadly Funny - Oxygen Part 4 Dub feat. Lee Perry 6:52
08. I Do Voodoo feat. Lee Perry & Gudrun 5:53
09. Surrender Dub feat. Ariup 5:21
10. Idiots Dub feat. Ariup 5:49
11. Kingston Dancehall Dub feat. Ariup 5:18
12. Evil Burma Dub 4:54

CD 2
01. Chrome Optimism - Oxygen Part 4 Dub feat. David Lynch 6:34
02. Let 'Em Take It Dub feat. Lee Perry 6:02
03. Chase The Devil Dub feat. Lee Perry/Gudrun 5:28
04. Defending Rights & Justice/Island Girl Dub feat. Lee Perry/Ariup 6:26
05. Blackboard Jungle Dub feat. Lee Perry 6:03
06. Fungus Dub feat. Lee Perry 6:21
07. I Foo China Dub feat. Lee Perry/Gudrun 5:09
08. Chase The Devil (G-Corp RMX) 5:54
09. I Do Voodoo (Rob Smith RMX) 6:50
10. Wadada - Means Love feat. Prince Far I/Trueman Chewstick (Tom Watson Remix) 4:37
11. Blackboard Jungle Dub Subatomic Soundsystem Remix 4:30
12.We All Have To Get High feat. Devon D (Tom Watson Remix) 5:39
13. Supermax - LOVE Machine (Dubblestandart Remix feat. Trueman Chewstick) 5:50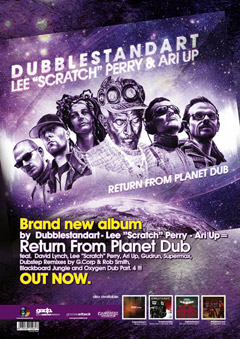 THE LOW DOWN:

To date, Dubblestandart have left their own crater on Planet Dub with the force of ten albums. Founded at the end of the eighties under the influence of Lee Perry's unique Black Ark Productions and Adrian Sherwoods's radical O-U Sound mix manoeuvres, the sought-after backing band (Ari Up, Lee "Scratch" Perry, Dillinger, Lilian Allen, Top Cat) around Paul Zasky have taken Jamaican production techniques and embossed them with their own, distinctively European stamp: bass-driven, informed by New Wave, using the very latest technology and skilled in the precarious balancing act between digital boombast and analogue warmth; wordlessly communicating between patois and Viennese humour.

Their eleventh album crowns their career with a series of thrilling collaborations (including Lee "Scratch" Perry, Ari Up and maestro David Lynch!) to create a Dubble CD that is quite simply unmatched in density, depth and incredible heaviness. Recorded in Kingston, the Bronx and the band's own studio in Vienna. CD 1 starts with a long set for Lee Perry, the familiar spirit and idol of countless dub scientists of the first, second, third and fourth generations, unpredictable madman and bottomless well of musical and lyrical ideas. Listen up to "Fungus Rock", in which Perry passes on a few bedroom tips. He also revisits a few of the milestones in his own career and gifts us with new versions of "Chase The Devil" (originally recorded with Max Romeo and elevated to immortal status when it was sampled by The Prodigy) and the dub manifesto "Blackboard Jungle Dub".

Then it's time for the next great eccentric star guest: Ariane Foster, alias Ari Up, wrote post-punk history with The Slits when she was only 14 years, zigzagged around the world, toasted as Medussa on Jamaican radio, recorded with Terranova and for Echo Beach and last year reformed a new cross-generational version of The Slits. CD 1 closes with four features for her highly distinctive voice.

CD 2 plays it by the book with the Versions. The band is proud to have united two other icons of the eighties on one track: legendary film director David Lynch has come out as a fan and can be heard toasting on a riddim adaptation of Jean-Michel Jarre's synth requiem "Oxygen Pt. 4" - another example of how Dubblestandart have perfected the art of homage: on earlier albums they covered genre classics, such as "Wadada" (Dub Syndicate), "MPLA Dub" (Tapper Zukie) "Money Money" (Horace Andy) and "When I Fall In Love" (with the original Ken Boothe vocals). The second CD sees the trip dubbing their way through the tracks on the first CD, then a bunch of old friends, including Rob Smith, G-Corp and Tom Watson, open the remix chapter and road test both new and old songs under dubstep and breakbeat conditions. DS bring it all to a glittering, impressive finale with a remix version of the disco classic "Lovemachine" by Supermax ... DUBDISCOEURO-GRIME... 8, 7, 6, 5, 4, 3, 2 - two days and two discs - return from planet dub !!!

Version Craze! Riddim Clash! A delectable dub showcase, 130 and more minutes or versions, vibrations and vocal mutations, madness and method, drum and bass, roots and future II - the ultimate definition of Dubblestandart ... or perhaps even the music for David Lynch's new film???