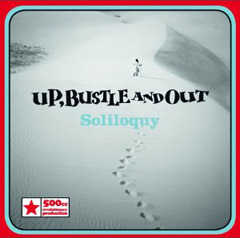 DETAILS:

Label: Collision - cause of chapter 3 ( an echo beach division) / Groove Attack
Title: Soliloquy
Artist: UP, Bustle and Out
Format: CD - 17 Tracks
Catalogue: CCT3020-2

Release date: 2010

TRACKLISTING:


1. Theme
2. Absent Crowds
3. Littered Dreams
4. Silver Fish - An Ocean's Dub Tale
5. Waterfalls of Gold feat. Benjamín Escoriza, Radio Tarifa
6. Sho Beto'l Alreh feat. Amal Murkus, Palestine
7. Popcorn Delights - an unusual Waltz
8. Beach Combing feat. Andrea Echeverri, Colombia
9. Theme
10. Luminous Fragments feat. Bronagh Slevin, Ireland
11. Scratchy Aperture - Dub
12. Sokak Cats feat. Sally's City Cats, Bristol, England
13. Satie's Atelier

BONUS
14. Silver Fish - An Ocean's Full Tale
15. Waterfalls of Gold - Dub
16. Satie's Atelier - Dub
17. Golondrinas Volando feat. Benjamín Escoriza, Radio Tarifa

THE LOW DOWN:

Listening to the music of Up Bustle & Out, I feel each song is a testimonial, conveyed on timeless instruments full of grace, and modern electronic wizardry as well.
Pablo Yglesias aka DJ Bongohead

Ever since setting out as one of the first and most prominent jazz - dance combos on the young "Ninja Tune" label, "Up, Bustle & Out" have come a long way since pioneering Ninja Tune's global reach. Their search for sounds, traditions, stories, allies and cultural change has lead them to places like South America: Cuba, Mexico, Jamaica, Europe, urban mega-cities like New York and Tokyo and the Orient. Their studio base in Bristol, England is the place where they bring it all together, forging one colorful, authentic and truly revolutionary album after another, and, in this collage process, relentlessy experimenting with sounds and styles to generating creative, new dubs, fusions and versions.

Up, Bustle, & Out have me mesmerized, intoxicated, enveloped in a process that takes the idea of collaboration and synthesis one step further to transform art through the alchemy of sound waves.
Pablo Yglesias aka DJ Bongohead

Soliloquy is full of moods, sounds, landscapes and even evokes the scents of foreign places. There is the Bosporus region, which was already celebrated on a double disc ("Istanbul's Secrets"), and where singer and actress "Sevval Sam" has long since become an extended family member. It's her voice that dominates most of the album's 13 tracks. We can also discover the voices of "Bronagh Slevin" (ex-Crustation), as well as Columbian singer "Andrea Echeverri", and Sally's City Cats appear on the studio rooftops of the Bristol production HQ.

The Andalucian vibe on "Waterfalls of Gold" is provided by "Benjamin Escorzia," singer of award-winning "Radio Tarifa," while credit for most of the other spanish moods must go to band member Cuffy "El Guapo" and his dreamatic and tense Flamenco guitar work. Fellow Bristolian "Jim Barr" of "Portishead Band" and "The Blessing" provides the trustworthy foundation on his beloved double bass. Other "U, B&O" stalwarts from Bristol include trumpeter Andy Hague and the bucket-loads of percussion by the Argentine "Eugenia Ledesma"... Again, founding member, "Rupert Mould Medd" made the musical journey across Europe to Instanbul to return with the recorded tapes of magical studio session work, while his partner "Clandestine Ein" held out at the HQ composing and adopting the hands-on production approach that is now the "U, B & O" trademark.

A soliloquy conjures for me a single dream, a drop of water, a bubble, a violin solo: the spoken word recounts the inner feelings of one self among many.
Pablo Yglesias aka DJ Bongohead

Let us not forget that the album title hints at moments of loneliness and inwardness. Powerfull club tunes, so much loved by DJs and dancers around the world, take a step back this time, giving way to delicate arrangements, Eastern chords and contemplative moods that all contribute to the album's common thread: the spirit of our environment, our concerns for a future, the very sounds of "nature." Listen closely, you will hear the sound of beach surf, winds, animal and children, also a movie organ, a steam boat leaving the harbour, or a Gypsy carousel. These field recordings were captured over the years by band founder and musical director Rupert Mould Medd. With the addition of four dubs & versions as bonus tracks, this album, covers a wide range of the world. It is softer, deeper, introspective and certainly carefully crafted, skillful movements as "U, B & 0" strive for the next level. This release not only celebrates a unique and deeply humanistic vision of a globalized world, and its concerns, but also the leading role of "Istanbul" - as an inspiration for the European Capital of Culture in 2010.