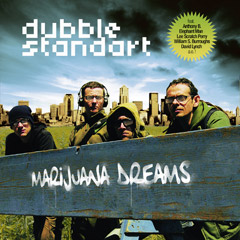 DETAILS:

Label: Collision - cause of chapter 3 ( an echo beach division)
Title: Dubbelstandart - Marijuana Dreams
Artist: Dubblestandart
Format: CD - 14 Tracks
Catalogue: CCT3020-1

Release date: 2010

TRACKLISTING:


Marijuana Dreams feat. GuGabriel & Trigga
Dem Can't Stop We From Talk feat. Anthony B.
Vampire Informer feat. Elephant Man
They Became One
Build To Last Dub feat. GuGabriel/Trueman Chewstick
Saints Go Marchin' Through All The Popular Tunes feat. William S. Borroughs
Some Will Be Dread feat. Lee Scratch Perry
Chase The Devil (Sin City Mix) feat. Lee Scratch Perry & GuGabriel
Voodooism (Dub) feat. Lee Scratch Perry
Optimism - Oxygen Part 4 (Dub) feat. David Lynch & Lee Scratch Perry
Vampire Informer (Dub)
Marijuana Dreams (Dub)
Dem Cant Stop We From Talk (Dub)
Chrome Optimism (Subatomic Sound System Dubstep RMX)
THE LOW DOWN:

One of the most important production teams actively creating and mutating dub in Europe, Dubblestandart from Vienna have been keeping a uniquely inspiring version of the dub flame alive for the last two decades.

Formed in 1988 the group was heavily inspired by the sounds from legendary dub space, the Black Ark, Adrian Sherwood's On-U Sound label, sound system operator, Jah Shaka, infusing these dub influences within their own heady blend of hardcore reggae and new wave. In demand as a live backing band (LEE PERRY, DILLINGER, Top Cat, Lilian Allen & Ari Up) as well as for their studio creations, Dubblestandart was becoming an international DUB act with performances in Europe, Canada and the USA.

"Marijuana Dreams" the bands 12th Album in history is showing DS international and outraging status and shows a series of splendid collaborations (including Anthony B., Elephant Man, William S. Burroughs, David Lynch, Lee "Sratch" Perry, Trigga)

Recorded in Kingston-Jamaica, the Bronx in New York and the band's own studio in Vienna. Dubblestandart's handling of this mission has been exemplary: the productions are pleasingly individualistic, retaining plenty of originality and professionalism without seeming stoic, dull or contrived.

A DUPstep remix by the New Yorker Soundsystem SUBATOMIC rounds the end of the astonishing album to a perfect end as well as the dub versions they have been made to appear on the album and making "Marijuana Dreams" to the most extraordinary DUB productions in 2010.

Vocals: Lee Scratch Perry, David Lynch, William S.Burroughs, Anthony B., Elephant Man, Gudrun Liemberger, Trigga.