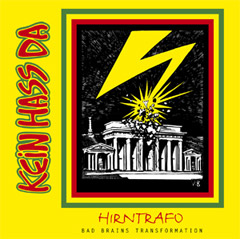 DETAILS:

Label: Collision - cause of chapter 3 ( an echo beach division)
Title: Kein Hass Da - Hirntrafo
Artist: Kein Hass Da
Format: CD - 29 Tracks
Playtime: 78 minutes
Catalogue: CCT3023-2

Release date: 2010


THE LOW DOWN:

... hate band promotion!

Some stories you tell nobody will ever believe. But as a musician you can say the silliest nonsense without the danger being sent to the funnyfarm. So let's give it a try!

The truth is: We are not from this world. Our earth is not as backward as this one - on the other hand, Punk has never happened there, and Alice Cooper died in 1973.

But it's this Alice Cooper of whom Karl has been a really big fan since early adolescence. That's why he always wanted to sing in an Alice Cooper tribute band. Since Karl is an old friend of us (and besides, the Cooper songs are easy to play), we had been on the road as THE NICE GUYS since 2004.

But unfortunately not very successfully. For unknown reasons we never caught our audience.

But then one day ... hm, it's a little difficult to tell ... well, strange superhuman beings sent us on the hunt for "positive energies".

No, it wasn't God, and we weren't drunk oder stoned, either. We were just handed a "Hirntrafo", and this machine should do all the miracles we couldn't do ourselves.

With the help of this thing we came to YOUR world, and then met the BAD BRAINS in the years of 1979, 82, und 89, to be exact. This was also our first encounter with PUNK - we were really impressed!

The impact was so great, that we had the idea to play the BAD BRAINS' songs in OUR world ... claiming WE were the BAD BRAINS!!

When we fell into the hands of a ruthless manager and understood that our use of the Hirntrafo had sucked away all the energy from the real BAD BRAINS, we destroyed the hellish machine. The result was that, somehow, we were catapulted though the dimensions and then were exchanged with our doppelgangers from THIS world.

You don't understand a word? Just like we. As we've told you before, some stories nobody will ever believe ...

Perhaps it would be a better idea to would listen to our CD HIRNTRAFO - and then read the book, too. Maybe the coin will drop - and, what's more, a little something will flow into our now-empty band account!

Anyway, just don't come asking us about things happened before 2007. No questions about EMILS, the MILITANT MOTHERS, the APPD or the Chaos Days. We really don't know much about all this ... is was the work of our doppelgangers (probably now stumbling around back on OUR earth!).

Only Rotter und Ud-I were lucky: They could "continue" to play in their bands STONE COLD BLACK und PULT unconspicuously. Nobody gave a thought about their "blackouts" here and there. Nothing new ...

Finally, many thanks to the BAD BRAINS, which are the only ones who know the truth so also this story, too. It's still a joy to play your songs, expecially in our German versions. Your "Positive Mental Attitude" is always with us.

Of course, we can't use the BAD BRAINS's name here - that's why we call it KEIN HASS DA. Not only a name but also a means of self-hypnosis.

Yeah ... writing a 'band info' can get you into a pretty hateful mood. Does anyone in their right mind really like to ruin their day with stupid promo trash?