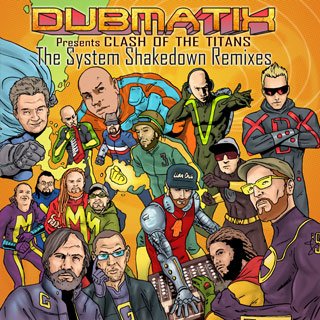 DETAILS:

Label: Collision - cause of chapter 3 ( an echo beach division)
Title: DUBMATIX - Clash of the Titans - The System Shakedown Remixes
Artist: DUBMATIX
Format: CD 19 tracks / DOLP 16 tracks
Playtime:
Catalogue: CCT3025

Release date: 2011


THE LOW DOWN:

Jesse King aka Dubmatix is a dub mastermind from Canada. His albums "Champion Sound Clash" (2005), "Atomic Subsonic" (2006), "Renegade Rocker" (2008) and, most recently, "System Shakedown" (2010), hit the spot worldwide and shook up the reggae massives all over the planet. Dubmatix is continually evolving his style, taking new influences on board on each new recording; by now it simply doesn't do justice to the incredible breadth of his work to slap a 'dub' sticker on it. His albums feature an impressive roster of respected guest stars, including Ranking Joe, Alton Ellis, Linval Thompson, Michael Rose, The Mighty Diamonds, Anthony B, Brother Culture, Freddie McGregor and many, many more. These collaborations see him effortlessly incorporating all conceivable facets of reggae and dub with a striking self-assurance and combining them with an exceptional willingness to experiment and take new directions. This kaleidoscope of variety is particularly in force on his latest album, "System Shakedown". As well as working as a musician and producer, King is also a sought-after remixer and app designer, with recent remixes including tracks for the Easy Star All-Stars, John Brown's Body, Zion Train, Martha & The Muffins, Don Letts and Mungo's HiFi.

The concept for this new release materialised in summer 2010: on a tropically hot summer evening in Toronto, Jesse King and Karsten Frehe (Irie Ites Music) came up with the idea and immediately set about contacting some of the world's premier dubheads to get them to contribute to a remix album straight from the bass drum.....! The remix material was so good and there was so much of it that the initially planned album was spontaneously transformed into a double LP.

"Dubmatix presents Clash Of The Titans - The System Shakedown Remixes" features a fabulous line-up of remixers: Groove Corporation, Zion Train, Aldubb, Dubvisionist, TVS, Mungo's HiFi, Marcus Visionary, LionDub (not on the CD), Webcam Hi-Fi, Victor Rice, Vibronics, Subatomic Soundsystem and Nate Wize. Dubmatix contributed an alternative version of one of the tracks from the album. The resultant release is multifaceted, ranging from roots dub to steppers, stopping off to play with more experimental approaches such as dubstep and future dub along the way....dub has always been open for new styles and ideas!

The voices featured on "System Shakedown" also put in an appearance: The Mighty Diamonds, Tippa Irie, Dennis Alcapone, Kulcha Ites, Jay Douglas, The Ragga Twins, Ammoye, Brother Culture and U Brown all feature with vocal parts, embellishing and enriching the futuristic sounds and vibes.

Over the past months a great work has emerged and it is now poised to go straight to the hearts and feet of dubheads all over the world.

The double album is a limited, numbered edition of 500.

The CD and digital online release include bonus tracks.