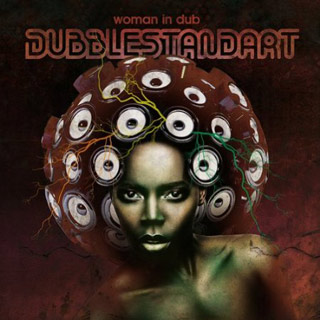 DETAILS:

Label: Collision - cause of chapter 3 ( an echo beach division)
Title: Dubblestandart - WOMAN IN DUB
Artist: Dubblestandart
Format: CD /Digital (plus bonus tracks... 1-8)
Catalogue: CCT3027

Release date: 06/2013

TRACKLISTING:

CD (plus bonus tracks... 1-8)

01. Another Life feat. Chezere
02. Holding You Close feat. Marcia Griffiths
03. Slow Motion feat. Amanda Bauman
04. With Music We Communicate feat. Coshiva
05. Don't Worry What The People Think About You feat.Jazzmine Tutum
06. I'm a Warrior feat. Saria Idana
07. Broken English feat.Kira Nathaniel
08. Soulmate feat. Ari Up
09. Find Your Love feat. Chezere
10. Trigger feat. Amanda Bauman
11. I Got To Live & Love feat. Caron Wheeler
12. Stay Calm & Carry On feat. Hoda
13. Stay Calm (Sulphur Dub)
14. Ultramarine Dub
15. Another Life (Robbie Ost Remix)

Bonus Tracks

1. Summerrain feat.GuGabriel (Robbie Osts acoustic 013 refix)
2. Another Life (Dubblestandart Dub)
3. Soulmate (Adrian Sherwood Remix)
4. Broken English (Dubblestandart Dub)
5. Broken English (Adrian Sherwood Dub)
6. Golden Life feat.AmA
7. With Music We Communicate (TLRmx)
8. Slow Motion (Infernal Devices Remix)

Longplay Vinyla

A Side
1.Another Life feat. Chezere
2.Holding You Close feat. Marcia Griffiths
3.Slow Motion feat. Amanda Bauman
4.With Music We Communicate feat. Coshiva

B.Side
1. Soulmate Dub ft. Ari Up (Adrian Sherwood Dub)
2. Warrior Dub
3. Don't Worry Dub
4. Echo Dub


THE LOW DOWN:

In the year of the snake Dubblestandart proudly presents album 13: With Woman In Dub, a collaboration with singers from all over, their dub voyage continues. A colourful journey that ranges from lover's reggae, dub poetry to r & b and indie pop vibes. Starting with Chezere from Barbados(Don Letts & Screaming Targets/Big Audio Dynamite/Urban Species/The Roots), the album opens with a smooth reggae song followed by reggae legend Marcia Griffiths(Jam) tempting Holding You Close. AmA Tone(US) seduces with her indie pop influence as the wide range of crossover compositions, Woman In Dub incorporates, unfolds.

Whether Jazzmine Tutum(Jam-Zion Train) tells not to "Worry What People Think About You" or Coshiva's song says, what it is all about: "With Music We Communicate": the aim is to develop Reggae Music further. Not an easy road in a world full of mix & mash ups. Composers & writers devaluated by the digital lifestyle, facing a society that believes creativity comes for free. Nevertheless Dubblestandarts approach remains quality first: Their massive studio in Vienna is full of classic equipment, a 48 track mixing desk and ton loads of outboard gear to build mixes for the audiophile! Have a listen to Kiras(Can) reshape of Marianne Faithfull's "Broken English" classic and u know what's happening!

The spirit of Ari Up is the foundation of this album: Women around the globe leading the way into a diverse society. From Vienna, Dubblestandart's new school steppers instrumentals reached out to acclaimed singer Caron Wheeler(Soul 2 Soul, US) as well as to Hoda Mohajerani(UK/Iran)and Saria Idana(US) to find some profound content straight from their heart to add inspired vocal tracks. Music for a planet full of stereotype role models we all are eager to question:" What does it take to make transitions in ourselves for necessary changes?"

Since 1990 Dubblestandart released 12 full length albums, several 12 & 7inches, with features on more than 70 compilations. Their collaborating artists list includes Lee Perry, Ariup, David Lynch, Ken Boothe, Adrian Sherwood, Sly & Robbie, Dillinger, Anthony B., Elephant Man, William S. Burroughs, Mad Prof. a.o.

Performing shows all over Euroland as well as Canada and the US saw them even perform live in Central Park NYC with Lee Perry & Ariup during the legendary Summer stage concerts 2009.Their production's with NYC's Subatomic Sound System Labels are known as an inspirational basis for cutting edge & progressive bass music.

A supersonic summer 013 awaits you! Lovely lyrics and melodies will perfectly melt with Dubblestandart's 21st century urban roots beats. into the great WOMAN IN DUB experience.

Quality control tracks as a further proof that Dubblestandart's productions are getting stronger and heavier with every release. Chill out and enjoy a great 2013 . !